BY:

Bill McGarvey
September 10, 2019
In the News
#ClimateWeek2019--Journalism & Climate Change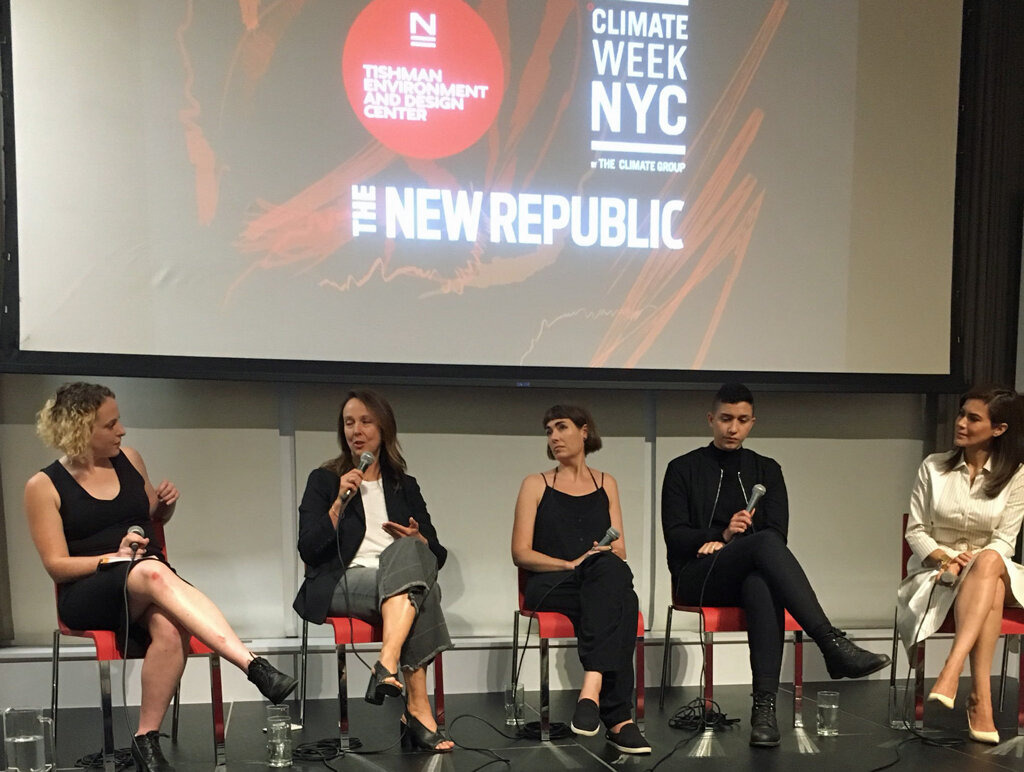 (Left to Right) Emily Atkin, Genevieve Guenther, Meehan Crist, Arielle Duhaime Ross, Vanessa Hauc (photo: @fossilfreeca , Twitter)
The New School's Tishman Environment & Design Center along with co-sponsor The New Republic hosted a powerful conversation among five journalists on the Monday evening of Climate Week. Emily Atkin, The New Republic Climate Contributor and founder/author of the newly launched climate newsletter Heated, moderated a lively discussion about the state of climate journalism today and how mainstream media is (and more often is NOT) covering the issue. The conversation brought together Genevieve Guenther, New School affiliate faculty member and founder of EndClimateSilence.org, Meehan Crist, writer-in-residence in Biological Sciences at Columbia University, Arielle Duhaime-Ross, VICE Climate Reporter and Telemundo's Planet Tierra Host, Vanessa Hauc.
When the conversation opened up to questions from the floor, a large chunk of the 100 or so audience members—the large majority under 30 years old—lined up behind the microphone. Questions about how to communicate this urgent crisis in a way that moves people to greater understanding and action was a consistent theme throughout. Unsurprisingly, there were no easy answers to be had on the issue but Professor Guenther offered some insight into moving beyond strict categories when covering climate. "I think one of the things climate change requires of us, is an interdisciplinary approach. It shows up in stories about immigration, fashion, food, war" she said, "journalists need to be empowered to tap into that collective voice."
Bill McGarvey
Bill McGarvey
co-founder
Entrepreneur, award-winning writer, editor and artist, Bill McGarvey has written on art, culture, politics and religion and has been featured in/written for The Washington Post, NPR, BBC, the New York Times, Time Out New York, The Tablet (London), Commonweal, Factual (Spain) and Book. He co-authored The Freshman Survival Guide published by the Hachette Book Group USA that has sold over 130,000 copies to date and was featured on The Late Show with David Letterman.